Top Three Kia Cars For Family
Videos
May 27th, 2019
There is a list of things you consider before buying a family car — space, safety, style or comfort. You need a car that is not just a shiny symbol of luxury or freedom but it should be something that takes you from point A to point B with safety and comfort. First and foremost families need space. They have car seats, toys, snacks, stuffed animals, sports equipment, and luggage that all need to get into their vehicle as part of their daily lives. What cars, minivans, and SUVs give them the most room to play with?
What if we tell you that you can have everything you are looking for, a shiny symbol of luxury which is spacious and safe for your family. We have a list of the roomiest Kia cars on the market today that gives you the best experience while driving with loved ones and also maintaining the highest standards of safety.
Kia Niro Hybrid is one capable crossover-hybrid which makes it stand out from the crowd. This subcompact car is roomy, versatile and fuel-efficient. The 2019 Niro Plug-In Hybrid electric vehicle is the next step in the electric revolution. At low speeds, it can operate in EV (electric vehicle) mode. When you need a little extra power to accelerate and climb, the engine and electric motor run at the same time. The Niro can even recharge a low battery at fixed speeds. The high voltage battery is both power and energy dense, was designed to downsize the gasoline engine to maximize fuel economy and reduce emissions.The cabin of the Niro is easy to get in and out of and scores high marks for interior passenger space, driver accommodation and a simple user interface. Like other Kia cars, Niro offers a suite of advanced driver assistance and convenience technologies — including blind spot detection with rear cross-traffic alert and lane change assist, smart cruise control, lane departure warning and autonomous emergency braking. Niro Hybrid is an especially tempting choice with Kia's production of a hybrid power-train which uses both electric motor and gas engine that makes your drive on a road which makes it more economical, efficient and environmentally friendly.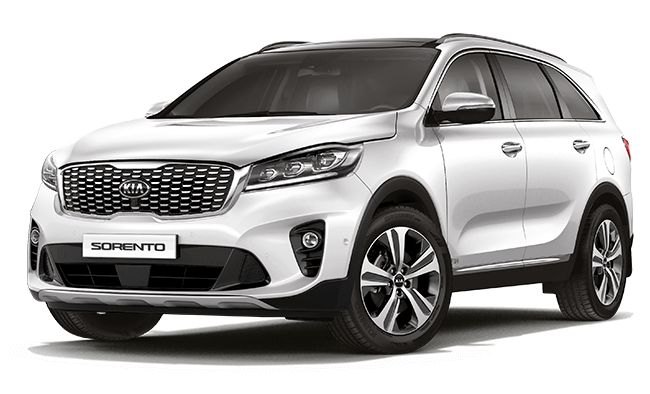 This newly redesigned 2019 Sorento has everything you need in an SUV. With available advanced Dynamax™ Intelligent All-Wheel Drive, you and your family can enjoy time to time outings such as camping trips or exploring the great outdoors with safety. Sorento gives features passive safety systems that give you more peace of mind, with a body made of advanced high-strength steel, advanced airbags, and seat-belt systems. Sorento is spacious, it is one of few midsize SUVs that come standard with a third row and seating for seven. This seven-seat SUV is available in five trim levels: L, LX, EX, SX and SX Limited. This vehicle also has advanced driver assistance features, a user-friendly infotainment system and a cushioned ride and it gets a good gas mileage. Available active safety features include front and rear parking sensors, rear cross traffic alerts give you visual and audible alerts to help you warn of traffic coming towards you from either side while backing up. These are just a few of the ways Kia never stops working to help maximize your protection.
Go anywhere you want in style– this is the vehicle that appeals equally to your personality and your practicality. Forte may seem smaller in size in compared to others but its affordable and has a style of its own. The vehicle that appeals equally to your personality and your practicality so now you take your next adventure in style. Despite the smaller frame, it can still seat five people and leave plenty of luggage room with its above-average trunk space. The exterior of the 2019 Forte was redesigned and with the redesign, there are some newly added features which include the LED headlights and taillights, rear spoiler, smart trunk, solar control glass and welcome lighting. The body of the Forte is sure to catch some eyes and turn some heads. This vehicle is a top pick for you because the 2019 Forte has been completely reimagined to do remarkable things. The athletic look of its exterior, the Intelligent Variable Transmission (IVT) in the new Forte has been designed to capture the sporty feeling under the hood.
Trento Kia is the top-rated new & certified pre-owned Kia dealership which is located in North York. We offer a diverse lineup of vehicles for a family haulier.
Why not stop by, take a test drive and see which model is the best for your family? Book an appointment with us today.